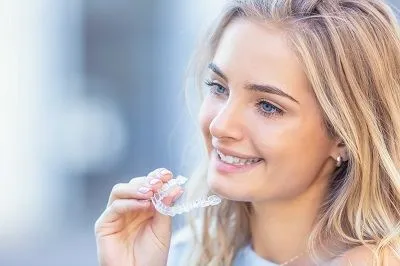 WHAT IS INVISALIGN AND HOW DOES IT WORK?
Invisalign is a system of clear plastic trays that can help you enhance your smile discreetly and more comfortably. They differ from traditional metal brackets by their lack of brackets and wires. The clear aligners are made from a patented, FDA-approved thermoplastic material known as SmartTrack®, which is designed to produce flexible, durable, and clear aligners.
Your aligners are personalized to your unique smile. Each aligner in the series applies pinpointed pressure that gently guides teeth into your ideal bite. Invisalign works best on mild to moderate bite issues, and we provide it for both adults and responsible teens.
BENEFITS OF INVISALIGN CLEAR ALIGNERS
The Invisalign system uses a unique combination of ages-old orthodontic science and advanced 3D imaging technology. The aligners fit comfortably over your teeth and move them gradually into the desired position, boosting your smile every day bit by bit.
Invisalign comes packed with benefits for those who choose them over traditional orthodontic treatments, including:
Clear aligners are virtually invisible
Take self-consciousness and confidence issues out of orthodontic treatments
Fully removable for easy at-home hygiene
No diet restrictions
No irritation of the gums or the inside of the cheeks
You enjoy fewer visits to the dentist
Less pain compared to metal braces
Treatment typically takes less time to attain optimal results
DENTAL ISSUES INVISALIGN CAN ADDRESS
Invisalign is best suited for correcting mild to moderate orthodontic issues. Our dentist will evaluate your smile to determine if this orthodontic option is the best fit for helping you achieve your smile goals. You may be a candidate for Invisalign if you have:
Crooked teeth
Crowded teeth
Gaps between teeth
Overbite or underbite
If you or your teen has any of these concerns, we'll put together a treatment plan to align your smile and promote good long-term oral health. For those with more complex orthodontic cases, we will refer you to a reliable orthodontist for specialized treatment.
THE STEP-BY-STEP INVISALIGN PROCESS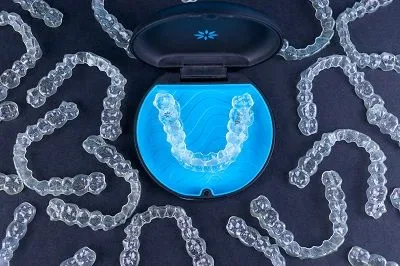 If you're interested in Invisalign, Dr. Farahmand will determine if you're an ideal candidate. While Invisalign is a versatile orthodontic treatment, it does not work for all orthodontic issues. At your first appointment, our dentist will perform an
oral exam
and assess your dental needs. If this treatment option is right for you, we'll talk you through the treatment plan, cost, timeline, and treatment protocol.
The next step involves x-rays and digital photographs of your teeth to create a digital roadmap. At Crown Dental Care, we use the iTero® intraoral scanner to take precise, accurate, and detailed impressions of your teeth. Using the 3D images, we can customize your Invisalign treatment plan and predict how your teeth will change over the course of treatment. These records are sent to the Invisalign laboratory to customize a series of unique aligners for you.
We'll invite you back to our office when your first series of Invisalign trays are ready. Each aligner should be worn for two weeks before moving on to the next aligner in the series. You'll need to wear your aligner for at least 22 hours a day for the best results, but you can remove them when eating, drinking, brushing, or flossing.
After about six weeks, you'll come in for an office visit to check your progress and get your next series of aligners. If your treatment requires any adjustments, we may take a new digital impression and order additional aligners. These adjustments are normal and won't delay your treatment time. The length of treatment varies, but most people can complete their Invisalign course in 12-18 months.
As part of our Invisalign services in El Cerrito, we offer free bleaching syringes with your last aligner on completing treatment. This will allow you to get beautifully straight and whiter teeth at the same time!
MAINTAIN YOUR SMILE WITH VIVERA® RETAINERS
Once you've completed your Invisalign treatment, you'll be able to enjoy a healthy, straighter smile you can show off with confidence. But as with most orthodontic treatments, it can take time for your teeth to adjust to their new position. We provide Vivera® retainers, which are similar to Invisalign aligners for improved comfort and ease of use. The retainers prevent your teeth from drifting out of alignment once your new bite has been achieved. Vivera retainers are clear like Invisalign, but they are thicker and more durable so they can last for years without cracking, breaking, or deforming.
GET A HEALTHY, STRAIGHT SMILE WITH INVISALIGN IN EL CERRITO
At Crown Dental Care, the beauty and health of your smile is our top priority. Our goal is to help you enjoy a more uniform smile, boost your confidence, and prevent major dental issues from developing in the future. To help you achieve the smile of your dreams within your budget, we offer flexible payment plans through LendingTree.
If you're interested in straightening your teeth with Invisalign, we have the knowledge and expertise to provide the personalized services you deserve. Call us today to schedule a consultation and find out if Invisalign clear aligners are right for you!